Mama Coal: Reimagining a Classic Album with a Feminist Twist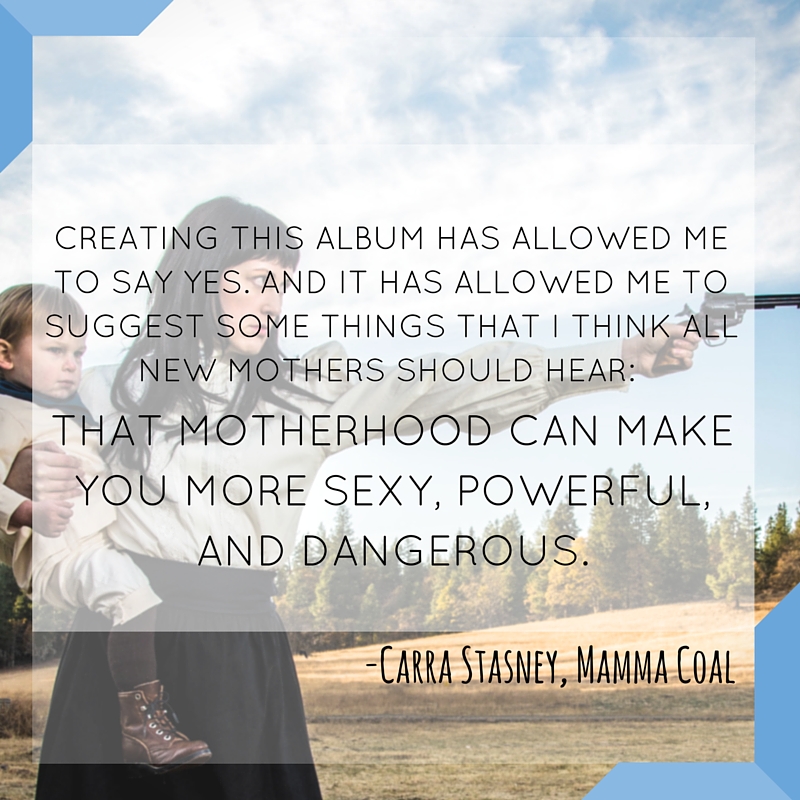 By Carra Stasney
[dropcap background="no" color="#333333"]I[/dropcap] was mostly in love, and only a little pissed off.
A longtime lover and performer of classic country music, I had heard all of the hit songs on Willie Nelson's Red Headed Stranger, but I'd never sat down to listen to the entire concept album from start to finish.  In the first few months after having my first child, I spent a lot of time listening to music while nursing him. A lot of time. So I took the opportunity to dig into Nelson's legendary record. When I did, I was instantly infatuated: with the idea of a narrative album, with the sparse but somehow very rich instrumentation, with the sincerity of his deep and delicate warble, and with the anti-establishment statement the album made toward the pop-leaning Nashville of 1975. I was deeply in love.
But I was pissed off, too.
[divider type="short" spacing="5"]
[dropcap background="no" color="#333333"]N[/dropcap]elson's main character is a preacher-turned-outlaw, who first kills his wife and her lover, and then shoots down a tavern girl who "grabs at" his bay pony as he's heading off on his way. The horse had been his wife's before her untimely death, and, due to his deep love for his departed wife, a woman simply reaching for the beloved animal could provoke the most extreme act of violence in him. Shortly after this incident, the preacher finds love again (in another tavern) and ends up having a nice little life for himself.  It is a classic story, full of time-honored archetypes of human experience: jealousy, betrayal, love, forgiveness, and redemption.[pullquote align="right" cite="" link="" color="" class="" size=""]"You can't hang a woman, for killing a stranger, who threatened the life of her babe."[/pullquote]
I loved every minute of it, but there was one line that really dug into me. In the song Red Headed Stranger, as he explains about the shooting of the tavern girl, Nelson sings: "You can't hang a man for killing a woman, who's trying to steal his horse." There is a certain machismo in that line that, to my mind, was just begging for a comeback.
I was of course surprised later to learn that those exact lyrics were not written by a man. The song was not Nelson's, but a cover of a tune penned by Edith Lindman with music by Carl Stutz. Curious to know more, I read up online, but found out little about Lindman's motivation for making the Red Headed Stranger murder this tavern girl.  Was she just trying to show how sad he was about killing his wife? Was she simply staying true to the wild west setting—a place where it was of course very easy for a man to accuse a woman of attempting to steal his horse and shoot her without worry?
[divider type="short" spacing="5"]
All of this wondering led me to contemplate a feminist's revision of the album. What if there was a woman instead of a man in the lead role? Who would she be? What would her motivations be? How would she justify the violence she was committing? How would she win the hearts of her listeners? It was a hell of a lot of fun to think about and eventually I got a vision for the perfect character: The Raven Haired Vixen. She would be a new mother (just as I was) navigating the rocky waters of sleep deprivation and postpartum depression (just as I was), whose child was taken from her by his no-good-daddy, and she was fighting to get him back. I created a parallel universe, where Raven would be able to flip those moments of machismo on their heads, and go dancing atop them in her cowboy boots.
During my pregnancy all of my anxious energy was spent preparing for the birth. My husband and I had chosen to have our baby at home, with a team of amazing midwives. In those 35 hours (yes, it was that freaking long), I learned that I was stronger than I'd ever imagined. I could push through the pain and fear and bring a miracle into the world. But nothing prepared me for the emotional roller coaster of postpartum depression caused by sleep deprivation.
When I got the idea for this album, I was just starting to get enough sleep to regain my sanity. I saw Raven in the same place, except just when she was feeling normal again, she awoke to find her baby gone.
[divider type="short" spacing="5"]
[dropcap background="no" color="#333333"]P[/dropcap]iecing together rewrites of Nelson's songs, my own compositions, and some other classic country songs that help tell her story, I gradually wrote and arranged the entire album: Raven Haired Vixen. It gave me a chance to answer all the looming questions I had about motherhood: Would I still be able to create art? Would I still have something to say? Would I be able to hold onto me inside this huge love and huge responsibility I had for my child?
Creating this album has allowed me to say YES. And it has allowed me to suggest some things that I think all new mothers should hear: That motherhood can make you more sexy, powerful, and dangerous. There will be compromises of time and commitment, but art and creativity can explode within these new parameters. You will have to work hard and find balance, but you can actually have both. And one more thing upon which we can all agree: "You can't hang a woman, for killing a stranger, who threatened the life of her babe."
[well]
If you'd like to pre-purchase Mama Coal, you can get that and more fun rewards on Kickstarter. The campaign closes February 21, so hurry!
[/well]