Amy on The Street (Part 2)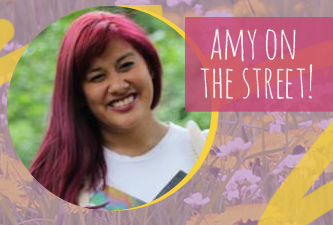 Feminist Wednesday Intern Amy took to the streets of new york to ask folks about feminism! Lets check in and see what she found out!
Question of the week: How do you think women are represented in the media, and do you think it's fair?
 Peter: I don't know if there's a monological of women in the media but in general it's not fair. There's still lot of objectification and women as characters are male dominated and that's bad. Yeah, I'm a feminist.
Yudiri: Algunas veces en los vídeos musicales, las mujeres son usadas para llamar la atención porque sólo las utilizan y no están ahí para llevar un buen mensaje. No soy feminista.
Translation: Sometimes in the music videos, women are used only to bring attention and aren't really there to bring a good message. I am not a feminist.
Kathryn: I think women are often objectified in the media and this is something I'd really like to see our society get away from.